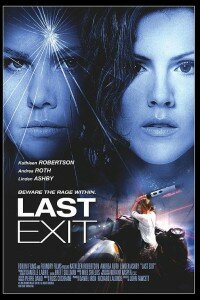 Credits
Directed by:
John Fawcett
Executive Produced by:
Pierre David
Produced by:
Daniel Iron, Richard Lalonde
Cast:
Kathleen Robertson, Andrea Roth, Linden Ashby
Synopsis
"How could something like this happen?"
Last Exit, writer Russell Cochrane's jarring portrait of two ordinary women pushed to the edge on a hot summer day, answers the question in this original thriller. Directed by John Fawcett ( The Boy's Club , Ginger Snaps ), Last Exit reveals stress-filled lives to which we can all relate and the dangers to which such lives can lead. Against a gritty urban landscape, the film proves that, on the traffic-clogged highway of life, the last exit is the last straw.
Last Exit follows a single day in the lives of Beth Welland (KATHLEEN ROBERTSON) and Diana Burke (ANDREA ROTH), two mothers following two seemingly different paths. Beth is a single mother to Benji, a young boy confined to a wheelchair and their cramped apartment overlooking an expressway. Beth seems to take it all in stride, while a growing desperation lurks beneath her sunny disposition. For Diana, a married mother of two with a highly successful career in advertising, life is all about keeping everybody else happy amidst the growing anxiety that she may be in over her head.
In the oppressive heat of an urban summer, the lives of these two women have violently collided. As police officers race to their uncertain rescue, parallel flashbacks gradually bring the shards of a shattered puzzle back into focus, providing truthful, if deeply unsettling, causes for the tragic effects.
Last Exit tells an all-too-familiar story of urban stress, overburdened lives, unrealistic expectations, and lurking rage. As genuine concerns and petty frustrations blend into increasingly volatile emotions, one otherwise gentle mother expresses her anger on the freeway. What ensues will change both women, together with the people they love, completely and for the rest of their lives.