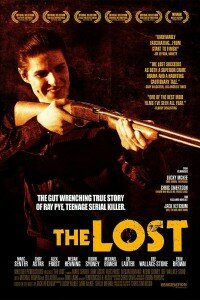 Credits
Genres:
Thriller
True-Crime
Directed by:
Chris Sivertson
Produced by:
Chris Sivertson, Lucky McKee, Mike McKee
Written by:
Chris Sivertson
Cast:
Marc Senter, Shay Astar, Alex Frost, Megan Henning, Robin Sydney, Michael Bowen, Ed Lauter, Dee Wallace-Stone, Erin Brown
Synopsis
From acclaimed filmmakers Lucky McKee (MAY, ROMAN, THE WOODS) and Chris Sivertson (I KNOW WHO KILLED ME, WICKED LAKE) and international cult novelist Jack Ketchum (RED, THE GIRL NEXT DOOR), comes the gut-wrenching, real life story of a teenage serial killer on a hard charging rampage across the quiet streets of small town America.
19-year-old Ray Pye (Marc Senter) is a black-clad, good-looking, snake-charming sociopath—capable of a compliment or cold blooded murder with the bat of an eye. When his friends, Jen (Shay Astar) and Tim (Alex Frost), help him cover up a murder they become his reluctant followers. Four years after the crime, Ray still hasn't been arrested. Detective Charlie Schilling (Michael Bowen) and his ex-partner, Ed Anderson (Ed Lauter), know that Ray did it…they just can't prove it. But when Katherine Wallace (Robin Sydney) arrives in town, Ray has finally met his match. Kath is a bad girl with a taste for the dark side and she and Ray are on an explosive collision course as destined as it is deadly.
"Undeniably fascinating…from start to finish"
-Joe Leydon VARIETY
"The Lost succeeds as both a superior crime drama and a haunting cautionary tale."
- Gary Goldstein, Los Angeles Times
"One of the best indie films I've seen all year."
-Mr. Disgusting BLOODY DISGUSTING
"A must see…"
- Tobe Hooper (director, THE TEXAS CHAINSAW MASSACRE)
"Gritty and ultimately fearless"
-Massawrym AINT IT COOL NEWS
"Disturbing and powerful, The Lost is a triumph of independent cinema."
-Andrew Kasch DREAD CENTRAL
"Every once in a while a movie comes along that genuinely shakes you up and makes you realize why you fell in love with cinema."
-Brian King CREATURE CORNER
"Should become an instant cult classic…riveting, disturbing, impossible to ignore…"
- Peter Straub (author, GHOST STORY, THE TALISMAN)
18 International Film Festivals:
South by Southwest Film Festival, USA
Fantasia International Film Festival, CANADA
Sitges Fantastic Cinema Festival, SPAIN
Edinburgh International Film Festival, UK