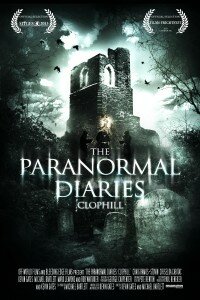 Credits
Genres:
Supernatural
Thriller
Directed by:
Kevin Gates
Produced by:
Off World Films and Bleeding Edge Films
Cast:
Michael Bartlett, Kevin Gates, Craig Stovin, Criselda Cabitac
Synopsis
In March 1963, a black mass was held in the ruined church at Clophill. Tombs were looted, animals sacrificed and human bones arranged as grotesque furniture during a macabre ceremony. Fifty years on, further defilements continue and reports of necromancy and sightings of ghosts are common. The local populace distance themselves from the ruined gravestones and Clophill's infamous reputation.
In 2010, a documentary crew was assembled to interview the village's inhabitants, eye witnesses and set up camp in the church ruins overnight in the hope of filming the spiritual unexplained. What followed that long weekend was a terrifying journey into the unknown.
FESTIVALS:
2013 FrightFest UK
WORLD PREMIERE in August 2013
The 2013 Sitges International Fantastic Film Festival of Catalonia revealed their final line-up for this year's festival in Spain and THE PARANORMAL DIARIES: CLOPHILL was amongst the final selections announced.
THE PARANORMAL DIARIES: CLOPHILL will celebrate it's Spain Premiere at Sitges on October 18th at 1 am (local time). For more information on the supernatural thriller and Sitges, click HERE.
MEDIA REACTIONS:
"Redefines the genre."
- DreadCentral.com
"Chilling. A new kind of horror aesthetic."
- Quiet Earth
"Not you're average horror movie; refreshingly understated and enjoyable."
- ZombieHamster.com
"The Paranormal Diaries: Clophill is extraordinarily something entirely original in the world of horror movies."
- Starburst Magazine
"Why (Paranormal Diaries) works so well is that it actually breathes new life into the much-maligned and much overused found footage format. "
- Nerdly.co.uk
"Paranormal Diaries: Clophill really hits the target does it's job, feeling more like an honest documentary than a horror movie.
- Cannibal Reviews
"An effective little chiller."
- New Empress Magazine
"Genuinely creeped me out."
- Cine-Apocalypse.com
"Subtle and frightening."
- HorrorCultFilms.co.uk