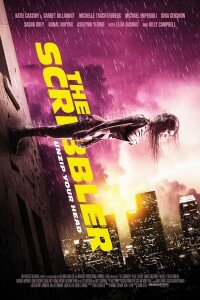 Credits
Produced by:
New Artists Alliance and Caliber Media Company
Cast:
Katie Cassidy, Michelle Trachtenberg, Eliza Dushku, Garret Dillahunt, Gina Gershon, Michael Imperioli, Billy Campbell
Synopsis
THE SCRIBBLER follows a troubled young woman named Suki (Katie Cassidy) who confronts her destructive mental illness using an experimental machine called "The Siamese Burn" which was designed to eliminate multiple personalities. But as Suki gets closer and closer to being "cured," she's haunted by a disturbing thought– what if the last unwanted personality remaining actually turns out to be her true identity?
THE SCRIBBLER also stars MICHELLE TRACHTENBERG, ELIZA DUSHKU, GARRET DILLAHUNT, GINA GERSHON, MICHAEL IMPERIOLI, SASHA GREY, BILLY CAMPBELL, ASHLYNN YENNIE and KUNAL NAYYAR.