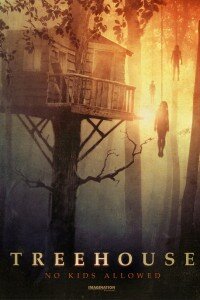 Credits
Genres:
Suspense
Thriller
Directed by:
Michael G. Bartlett
Written by:
Alex Child, Miles Harrington
Cast:
J. Michael Trautmann
Synopsis
TREEHOUSE is a dark, coming-of-age thriller set in the heartland of rural America. The film follows the journeys of two teenagers, ELIZABETH and KILLIAN, whose lives intersect one cold night in an old treehouse, deep in the forest.
After the sudden disappearance of a local brother and sister, the town of Westlake is put under a curfew by local law enforcement. The annual fair is canceled, much to the annoyance of KILLIAN and CRAWFORD, two brothers attending Bayscout High. They decide to sneak into the woods that night to meet some local girls and shoot off some fireworks.
When their friends do not show up, the two brothers decide to paint the sky. When the fireworks illuminate a structure high up in the trees, they discover a treehouse. Inside it is ELIZABETH whom they recognize from local news reports as the missing sister.
ELIZABETH is badly injured and unable to recall what has happened. All she is able to articulate is that 'things' took her little brother. CRAWFORD runs for help, while KILLIAN waits with her. Crawford never returns.
What follows is a nightmare journey into Hell as the "things" within the woods lay siege to the treehouse. It is only a matter of time before the treehouse – their sanctuary – eventually becomes their tomb. ELIZABETH and KILLIAN are forced to find a way out in order to survive and learn the fates of their brothers. Their escape ultimately leads them to a shocking revelation, culminating in a brutal finale with their attackers.